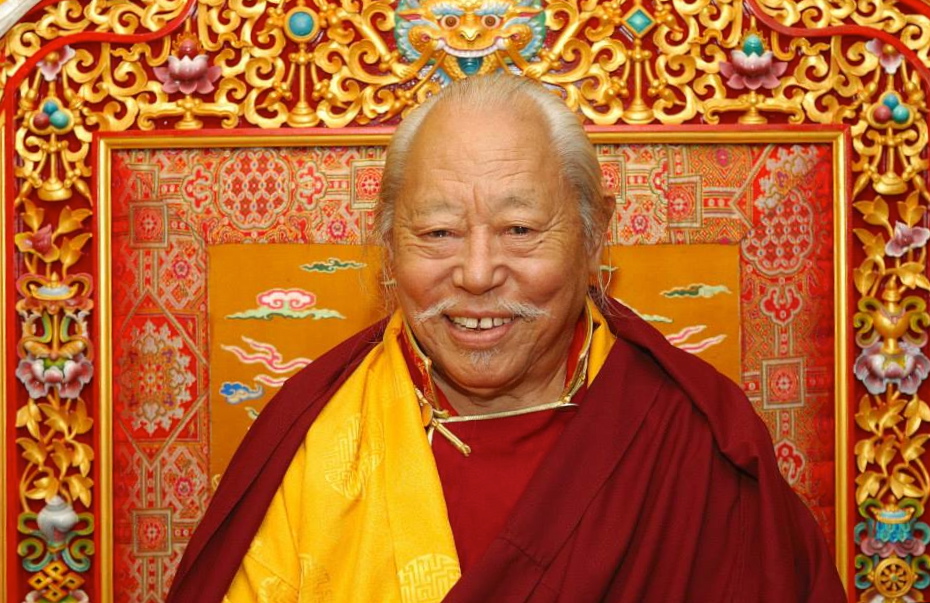 Venerable Lama Kalsang Rinpoche — Photo courtesy of Konchog Oesel
         Kalsang Rinpoche condolence in Chinese
It is with great sorrow that we announce the passing into parinirvana of the Venerable K. C. Lama Kalsang Rinpoche, May 31, 2013. He was a direct descendant of the great King Ling Gesar of Tibet's Mhukpo Dung, and father of Ayang Rinpoche's sangyum, True Lhamo.
Kalsang Rinpoche was born 97 years ago in Domchengar, in the region of Kham, in eastern Tibet. His father Chadral Pema Gyurme was a highly accomplished yogi Vajrayana Chod Master.  His father's title "Chadral" is a title of respect given to a person who lives a meditative life of renunciation high in the holy mountains and dangerous cemeteries of Tibet. Chadral Pema Gyurme spent his life practicing in such holy places. He accomplished a thirteen-year retreat at Mt. Kailash and was renowned for his realization.
From early childhood, Kalsang Rinpoche had been trained in the Dharma under his father's guidance. While traveling with his father to many of the sacred places in Tibet, Rinpoche received tantric ritual teachings from him with a special emphasis on Chadral Pema Gyurme's Healing Chod lineage.
Rinpoche's life study and practice of the Dharma was deepened by the numerous blessings, empowerments and teachings that he received from many of the great Kagyu and Nyingma masters. Rinpoche was a "favored son" of his root guru His Holiness the 16th Gyalwa Karmapa. In addition to the great masters' teachings, Rinpoche was given the complete oral transmission teachings and empowerments of the Karma Kagyu Nyen Do Monastery.
For twenty-five years, Rinpoche studied and practiced the Dharma at the Nyen Do Monastery in Eastern Tibet. He completed a continuous five-year Tara retreat at the Monastery, and at the conclusion of the retreat, Rinpoche was appointed the Chief Representative of the Nyen Do Monastery Regent. For the remainder of his residency at the Nyen Do Monastery, Rinpoche served in the capacities of ritual master, financial administrator and community ambassador.
Following the Chinese expansion into Tibet, Rinpoche relocated to India. In Bylakuppe, South India, he founded the Karma Kagyu monastery, Kagyu Nalanda Institute, the related charitable organization, Bodhisattva Trust, and the Gesar Divination and Healing Center.
Rinpoche was often referred to as "Yogi Rinpoche." He was a renowned master of the practice of the Chod healing ritual and Gesar of Ling (also referred to as Juthig) Mo divination, one of the oldest divination systems in the Tibetan culture.  He learned both practices from his father, and attained his insight and wisdom as a recognized Tibetan healer through devotion to meditation, years of practice, retreat, and experience with these unique methods. Rinpoche's healing rituals were known to be beneficial to those suffering from physical, mental or spiritual ailments and their associated obstacles.
For over forty years, Rinpoche selflessly served the southern region of India from his residence in Bylakuppe. He first visited the West in 1996, and traveled internationally until recently, offering insightful teachings and compassionate guidance. Over the years, Rinpoche's powerful spiritual healings have successfully helped people where other methods have failed. His tireless Dharma efforts, healing activities and selfless dedication to all sentient beings earned him the respect of the Hindu, Muslim and Christian communities in South India, as well as the Buddhist community worldwide.
Venerable Kalsang Rinpoche's ku-dung will be cremated July 19, 2013.