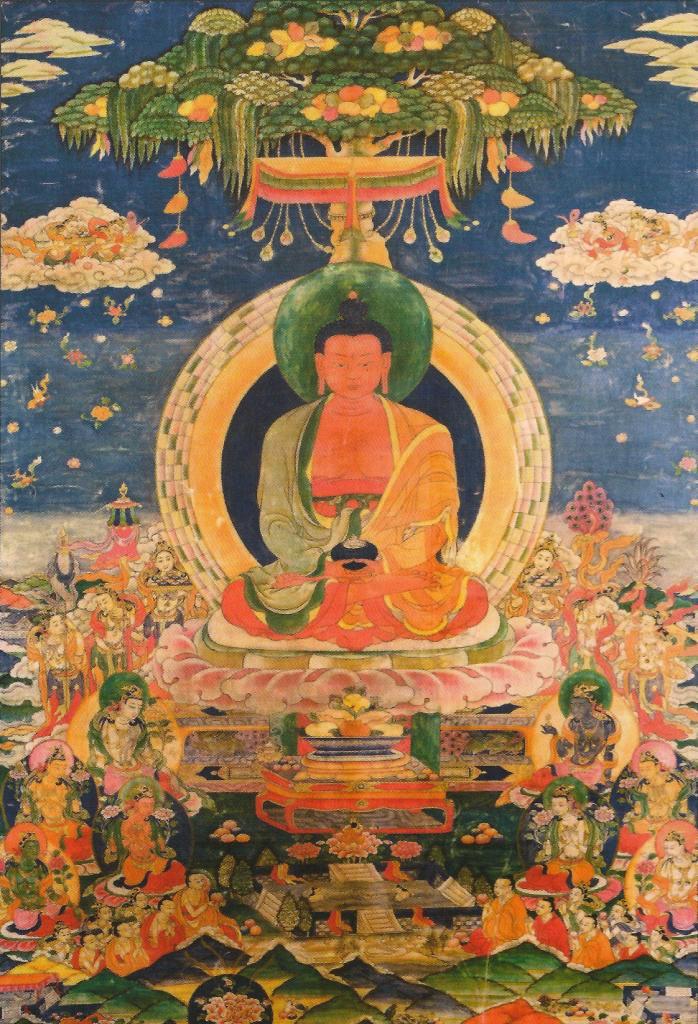 Buddha Amitabha's Pure Land (courtesy of Rubin Museum)
H.E. Choje Ayang Rinpoche will teach in the US and Canada August-September 2015.
Toronto August 8-12, Amitabha 10-Levels Teaching; August 13-15, Introduction to True Nature of Mind interviews and teaching; and August 16, Achi empowerment. Please contact Ivy Zhu at info@termafoundation.org for details and to register. Download the 2015 Toronto Schedule and more information.
Vancouver August 22-26, Vajrasattva Outer, Inner and Secret Teachings. Please contact Amitabha Foundation Vancouver at 604-726-5106 or amitabhafoundation.vancouver@gmail.com for details and to register.
The Toronto and Vancouver schedules will be posted as soon as they are available.
San Jose, California September 1-11, Phowa Course. For the daily teaching and practice schedule, please see the Revised San Jose 2015 Phowa schedule. Rinpoche strongly advises participants to attend the full course. Additional activities with Rinpoche, including a fundraiser to support earthquake relief efforts and repair of the Amitabha Retreat Center in Nepal, are being planned for September 12 and 13. Click here for the registration form. Contact Silvie at 408-923-8888 or tq222015@att.net to register or for more information. We want to give everyone as much notice as possible so they can plan their vacation and travel schedules, but please be advised that we are still waiting for Ayang Rinpoche's USA visa to be renewed.