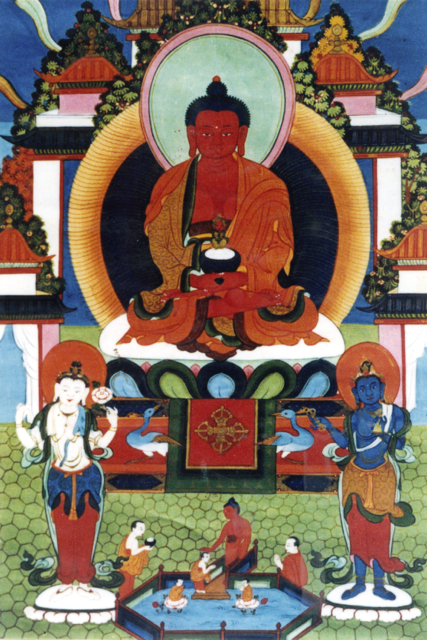 Every year at Ayang Rinpoche's Dechen Choeku Ling Monastery in Mundgod, South India, they perform a Drupchen (Great Accomplishment ceremony), focusing on the Dharmakaya Amitabha, Sambhogakaya Avaloketeshvara or Nirmanakaya Guru Padmasambhava, alternating each year. This year they will do Amitabha puja.
Rinpoche welcomes everyone to participate by reciting the Amitabha mantra while visualizing the Amitabha Pure Land.  Send your accumulations made between April 4-17 daily to NY@amitabhafoundation.
OM AMI DEWA HRI
Support the Drupchen with a contribution toward butterlamps, tsok, meals and tea for the monks, nuns, khenpos and tulkus, or for a money offering to monks and other participants. You may include the names of loved ones you would like added to the prayer list.