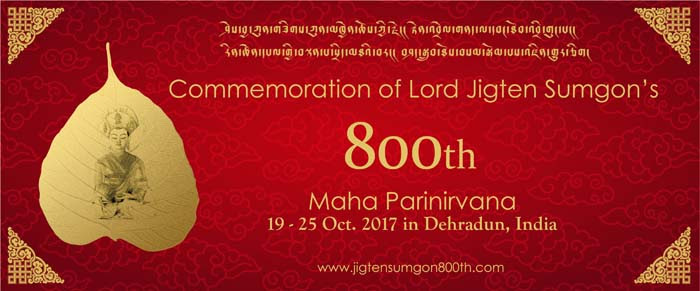 The 800th Commemoration of Lord Jigten Sumgon's Maha Parinirvana will take place in Dehradun, India October 19-25, 2017. The main teachings and programs will be live streamed from 19th – 25th October 2017 between 9:00 AM – 5:30 PM India Standard Time. All devotees in every corner of the earth are invited to live steam the teachings and other programs.
This link will be updated automatically to reflect the current live stream over the course of the 7 days program.
For further information, please go to jigtensumgon800th.com, or contact the organizers at: info@jigtensumgon800th.com
International Drikung Kagyu Council
PO 48 Kulhan, Sahastradhara Road, Dehra Dun 248001, India
Ayang Rinpoche's monastery will be sending lamas, khenpos and monks to Dehradun to participate in the ceremony. You are welcome to help sponsor their travel and offering expenses with a tax-deductible donation. Send your check to Amitabha Foundation, P. O. Box 2572, Aptos, CA 95001 or donate online:
You may also wire your offering directly to Drikung Charitable Society, although this will not be tax deductible in the US.